Temperature control systems
For the most modern production processes, Della Toffola Group manufactures complete refrigeration systems with a very broad range of options, even computer-aided, for the management and control of the temperature of musts and wines.

These systems are particularly suitable for lowering the temperature of crushed must, monitoring and maintaining the temperature during fermentation, checking and maintaining the ideal temperature of wines in storage, as well as lowering the temperature of wines as part of the tartaric stabilizing process.

These systems are designed and manufactured to the customer's specifications.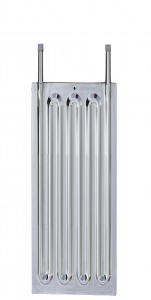 Cooling plates
These plates rely on the use of heat exchange fluids such as glycol solutions and are particularly suitable for conditioning the fermentation temperature of musts. They offer an advantageous alternative to the usual coils and cavity-wall systems.
They are highly efficient thanks to the double heat exchange surface with the forced circulation of the refrigerant.
The plates have a polished outer surface and can also be supplied separately. They come in standard sizes 370 mm wide and from 600 up to 7000 mm high; plates in widths of 270, 470 and 570 mm are also available on request.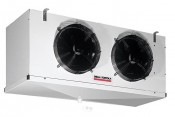 Air coolers
For air conditioning in cellars where barrels are stored and in cold storage rooms. These air coolers are characterized by a great versatility of application and adaptability to room volumes from 100 to 3000 m3.
They are sturdy and the component parts are readily accessible and easy to replace.

They comprise batteries of copper tubes and aluminum fins; other materials are available on request.
Every design detail has been studied to obtain a very high heat exchange with a very low refrigerant charge.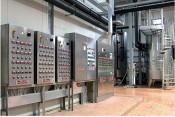 Management and control systems
The electrical temperature control panels are made entirely of AISI 304 stainless steel and supplied complete with all the components needed for the automatic adjustment and monitoring of the temperature of the product.

The intelligent management of the pumps for circulating the refrigerant fluid also takes into account any thermal cutout, thus avoiding any pointless electrical energy consumption.

For an avant-garde management system, there are also PLC-based and touch-screen control panels.